First Cannabis For Autism Test To Begin In Israel
Medical Cannabis Autism and Israel - Why They Moved First from CannabisNet on Vimeo.
The peeps over at the Holy land know what's up with pot - they've revolutionized many things to do with marijuana and will now be conducting the first autism test of its kind.
While cannabinoids have been proven beneficial for a number of illnesses even for children, it's efficacy for autism still lacks research today…. At best, we'd say it's been anecdotal at best. But that might all just change.

An Israeli doctor by the name of Dr. Adi Eran will be heading a formal clinical research on the effects of medical cannabis on both autistic teenagers and children. Dr. Eran heads the pediatrics neurology department at Jerusalem's Shaare Zedek Medical Center. This will be the first of its kind and if the results are favorable, marijuana will save the lives of millions again, this time those who are living with autism as well as their families.
Currently Dr. Eran is working on his permits from the Health Ministry, a prerequisite for the study which will analyze 120 autistic individuals aged 4 up to 30 and from both sexes. The participants of the study are classified as low to medium in terms of functioning. As is the typical SOP in clinical trials involving marijuana, the cannabis that will be given to them won't have the psychoactive elements of pot but it will be potent in CBD, the miracle healing component of cannabis. Dr. Eran already has the go-signal from the Israel Health Ministry but is still working on locating his subjects from psychiatric facilities and local hospitals as well as other medical centers that work with childhood development.
The subjects will be divided into two groups, one that will be made to ingest cannabis oil, and the control group who will be administered placebos. During the test period, effects of both the cannabis oil as well as the placebo on the participants will be recorded. After this, there will be a one-month pause on the treatments and the groups will be interchanged: the control group will become the test group and vice versa. During the entire trial, none of the subjects nor their families will know which of them are receiving the placebo or the actual CBD.
Dr. Eran's study will focus on specific behavioral characteristics that are prevalent among those with autism such as acute anxiety and physical aggression on oneself and on others. The study is revolutionary not just because it's the first of its kind to be done, but also because should the study go ahead, cannabinoids will be used on children in a clinical trial which brings with it its own risks even if the psychoactive compounds are isolated and removed.
A committee within Israel's Health Ministry is already working out the rules in which it would be proper to prescribe medical marijuana to autistic individuals so that they can define specifically what behavioral problems will require the treatment of the plant.
In the United States as well as in Israel, CBD oil still isn't recognized as treatment for autism - as mentioned earlier, we're still pretty much relying on anecdotal evidence. But despite this, Eran says that in Israel there are already those who are already on medical cannabis prescriptions because no other medication has worked for them, and their symptoms are too severe and debilitating. The patients' families are aware of this, but they have already reached a point of desperation and feel like they have nothing else to lose.
Marijuana has been proven time and again to be useful not just for physical ailments but it's also been a pioneer treatment for many psychological conditions as well. As of today it's already been accepted as a form of treatment for epilepsy as well as post-traumatic stress disorders. In fact, around 30% of autistic individuals suffer from epilepsy.

It may take some time to know the results of this research because doctors want to fully understand how the cannabinoids affect the brains of both autistic and epileptic individuals and because of stigma combined with legal restrictions, the answers are still pretty hazy.
TREATING AUTISM WITH CANNABIS OIL HELPED MY SON, CLICK HERE TO READ...
OR..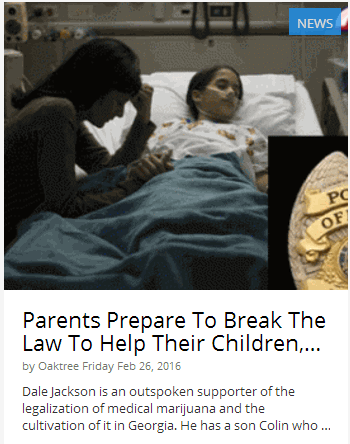 PARENTS PREPARE TO BREAK THE LAW TO HELP THIER KIDS, CLICK HERE TO READ..